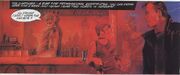 The Chatsubo or Chat, is a bar in Ninsei of Chiba City, 2 block east of Jarre de Thé. The bartender was Ratz occasionally replaced by Kurt. Kirin and Tsingtao beer are served there.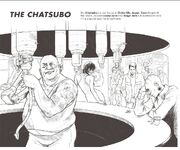 It was frequented by expatriates; there were almost no Japanese there. Figures seen there were African sailors, Lonny Zone's whores, Wage with his joeboys, and Case. On weeknights it attracted a dealing clientele. On Fridays and Saturdays it was flooded by sailors from the Chiba port and specialists preying on them.
In Japanese, chatsubo (茶壺) means "tea bowl".